Celebrate Your Birthday!
[English | Vietnamese ]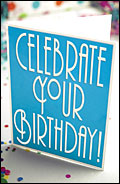 As children, we couldn't wait for our birthday to arrive.
We eagerly anticipated it each year, knowing it would be a special day. We got to eat our favorite foods, have parties with our best friends, receive presents, and blow out the candles on our cake.
But as adults, it is too easy just to think about the negatives of growing older. We may see a new wrinkle and several more gray hairs and forget that each birthday is a gift…to us! Instead of seeing age as our enemy, we need to think about the fact that God loves us the way we are. Even though those signs of aging may not fade, God wants us to live our lives to the fullest. Jesus said, "I came that they may have life and have it abundantly" (John 10:10). He wants to rejuvenate our spirit and give us purpose for every year of our lifetime.
Take a moment today to remember all the things God has done for you. As you think of all your blessings, it will be hard to feel "down"!
"It is good to give thanks to the Lord, to sing praises to your name, O Most High; to declare your steadfast love in the morning, and your faithfulness by night" (Psalm 92:1-2). "Serve the Lord with gladness; come into his presence with singing! Know that the Lord, he is God. It is he who made us, and we are his; we are his people, and the sheep of his pasture" (Psalm 100:2-3).
Enjoy another year knowing that God is at work in your life to accomplish his will, even when you can't see it: "And we know that for those who love God all things work together for good, for those who are called according to his purpose." (Romans 8:28).
and… Have a Happy Birthday!
Not so "happy" this birthday?
Perhaps this birthday is just another day on the calendar that you dread. Maybe you have never enjoyed knowing God personally. If you would like to have a relationship with the God who renews lives, don't hesitate! Jesus died and rose again to take the consequences of your sins, and to make the ultimate "birthday gift" of eternal life possible for you. By accepting God's gift of salvation, you can have a spiritual birthday. "For by grace you have been saved through faith. And this is not your own doing; it is the gift of God…" (Ephesians 2:8). If you are ready to trust Jesus as your personal Savior, you can pray a prayer like this:
Dear God, I know that I am a sinner and I ask for your forgiveness. Thank you for all that you provide for me, like another year of life. Most of all, thank you for your Son Jesus. I know that He died in my place so that I could have eternal life. I want to live for you and be ever thankful for the wonderful Provider I have in you. Amen.
If you are not satisfied with the way you have been living your life, then this birthday means God has given you another opportunity to change things! Ask Jesus to come into your life today and make this birthday a celebration you will never forget!
© 2002 - 2006 Good News Publishers. Used by permission.
Translated by permission of Good News Publishers
1300 Crescent Street
Wheaton, IL 60187
U.S.A.