Jeff Gordon: What Drives Your Life?
Christin Ditchfield
[ English | Vietnamese ]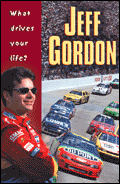 Being in the driver's seat is nothing new for Jeff Gordon. The three-time Winston Cup Points Champion has competed in more than 200 NASCAR events, recently winning his 50th race.
Gordon started driving at the ripe old age of five! He competed in go-karts and quarter-midgets, working his way up to full-midgets and sprint cars by the time he was in his early teens. "Racing quickly became my life," Jeff recalls. "It was one thing I was really good at!"
Week after week Jeff found himself in the winner's circle. It soon became obvious he was destined for greatness on the racetrack.
In 1993 Gordon made his debut in professional racing on the Winston Cup Circuit. He was now competing each week against legendary NASCAR drivers--many of whom were twice his age. It was a thrill for the 21-year-old Gordon, whom they nicknamed "The Kid."
Hey, I'm on top of the world! Jeff thought. I'm racing in the Winston Cup Series, and I'm building a name for myself.
As the 1993 Rookie of the Year, Gordon was living a dream come true. But somehow he wasn't satisfied with his success. Something was missing in his life, and he knew it.
"I saw some of the other drivers going to chapel services at the racetrack on Sundays and I got curious," Jeff says. One Sunday he decided to join them. It was then that Jeff realized that it was one thing to be in the driver's seat of a race car--it was another thing to be in the driver's seat of life.
For years Jeff had been living life his own way, completely focused on his career. But it hadn't brought him the happiness or fulfillment he expected. He was beginning to see the truth of the Bible verse that says, "There is no one who understands, no one who seeks God. All have turned away¼. All have sinned and fall short of the glory of God" (Romans 3:11-12, 23).
Sin brings guilt, disappointment, disillusionment, and ultimately death. But living God's way brings life. John 3:16 tells us, "For God so loved the world that he gave his one and only Son, that whoever believes in him shall not perish but have eternal life."
Jeff realized that true peace and happiness can only come when God is in the driver's seat. He decided to surrender his life completely to the Lord. "Before, I was totally focused on driving. How it went on the track was my life," Jeff recalls. "Becoming a Christian changed my priorities. Now God comes first, then my wife and family, and then racing. I think being a Christian has made me a better husband and son and a better driver."
Jeff Gordon has achieved extraordinary success in his professional racing career. He has become one of the most popular and recognizable athletes in the world. With the blessings of fame and fortune come additional pressures, challenges, and responsibilities. Gordon takes the responsibilities seriously, but he's determined not to be distracted by the trappings of success.
"I just try to keep my focus on God, trust Him, and ask Him to help me handle things," Jeff explains. And whenever he has the opportunity, Gordon shares with others the source of his peace and strength: "A lot has happened to me over the past few years: a lot of race wins, some championships. But the greatest thing that has happened to me is my personal relationship with Jesus Christ."
You, too, can experience the peace and fulfillment that Jeff has found, by beginning your own personal relationship with Christ. You might pray something like this:
Dear God, I realize that I am a sinner in need of a Savior. I believe that Jesus died on the cross for my sins and was raised three days later, conquering death. Please forgive my sins and be Lord of my life. In Jesus' name, Amen.
© 2003 Good News Publishers. Used by permission.
Translated by permission of Good News Publishers
1300 Crescent Street
Wheaton, IL 60187
U.S.A.