Michelle Akers: Eyes on the Prize
Christin Ditchfield
[ English | Vietnamese ]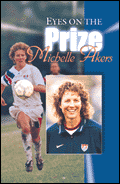 When Michelle Akers was a little girl, she had a dream. It was no ordinary dream, it was a big dream. She wanted to be a wide receiver for the Pittsburgh Steelers. Akers practiced making catches in the backyard every day with her father and brother. But then a well-meaning teacher took little Michelle aside and told her the cold, hard truth: "Girls don't play football!"
Michelle was crushed. She loved sports and wanted to be an athlete no matter what. Her parents encouraged and supported her. In time, she found other ways to use her athletic gifts. Akers discovered she had a tremendous talent for soccer. She won trophies and broke records left and right. In 1985, she was invited to become a member of the inaugural U.S. Women's National Soccer Team. She helped the team capture the Women's World Championships in 1991.
As a professional, Akers competed internationally and continued to accumulate an impressive array of records, awards, and accomplishments. She became the all-time leading goal scorer for the U.S. Men's and Women's National Team Programs and was widely recognized as the best female soccer player in the world.
Dreams of glory on the soccer field had replaced her childhood hopes. But these dreams didn't last either. Right in the middle of her outstanding professional career, Akers found herself constantly battling unexplained fatigue and illness. After struggling along for several years, she was finally diagnosed with Chronic Fatigue and Immune Dysfunction Syndrome (CFIDS). On a good day, Michelle could get through a practice with the team. But her performance level was not what it had been, and the effort completely wiped her out. On a bad day, she didn't have the strength to get out of bed or shower or fix her own meals. The strain of coping with the disease took its toll on every aspect of her life. It was devastating.
"I was so sick, I lost my ability to function day-to-day. I lost my soccer and my identity. I lost everything. I even lost my marriage," Akers remembers. "When I was in high school I had put my faith in God, but when I went away to college, I decided I could handle things on my own. For ten years I had lived as I pleased, following my own rules--my own desires. Now I was depressed, sick, alone, and empty. My illness forced me to take a close look at what really mattered in life, what was really true, and who I could really count on."
In desperation, Akers retreated to a cabin in the mountains to do some serious soul-searching. It was there she realized there was only one answer. She decided to completely surrender her life to God. Akers prayed, "God, I give up! You've got my attention. I can't make it on my own. I need You." She added, "You can have my life completely. I don't know what You want to do with it, but whatever it is, I'll do it to the best of my ability."
At that moment, Michelle says, God filled her heart with a new dream, a new vision for her purpose in life.
"For so many years, I thought that being a world champion or being the best player in the world meant something, that it would bring me the fulfillment I was looking for. But when I got sick, I realized it didn't do anything for me," Akers shares. "My decision to hand my life over to Jesus brought me incredible peace and strength and joy. Now I know my life is in the hands of Someone who loves me and knows what is best for me. God gives me the strength and courage I need to live for Him."
To Michelle Akers, living for Christ has been a dream come true--the greatest dream of all. Her health struggles continue, but now Michelle sees them as opportunities. "When you give yourself completely to God, He not only helps you through tough times, He uses those things to help you learn and grow as a person. You can then help others with their struggles."
After winning the Gold Medal at the 1996 Olympics in Atlanta, Michelle wrote in her journal: "My mind keeps returning to the past few years where I thought I was so alone, so isolated in my struggles and pain. God is so good. Through it all, He was preparing me for this moment, this experience. So faithful! He took it all away, but He gave me back so much more (Ephesians 3:19-20)."
You can find the hope and strength Michelle has found by surrendering your life to Christ. In Matthew 11:28, Jesus said, "Come to me all you who are weary and burdened, and I will give you rest."
If you'd like to have a relationship with Jesus, pray something like this:
"Lord, thank You for sending Your Son Jesus to die on the cross for my sin. Thank You for forgiving my sin and giving me eternal life with You. I want to know You personally. Please take my life and make me who You want me to be. Amen."
You can read more of Michelle's story on her website at www.michelleakers.com .
© 2002 Good News Publishers. Used by permission.
Translated by permission of Good News Publishers
1300 Crescent Street
Wheaton, IL 60187
U.S.A.