Payne Stewart: A Changed Heart
[ English | Vietnamese ]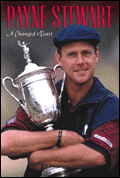 Christin Ditchfield, based on the book by Tracey Stewart with Ken Abraham
It was a tragedy that sent shockwaves around the world. On October 25, 1999, a small plane plummeted to the ground near Mina, South Dakota, killing everyone aboard. Among them was golfing great Payne Stewart.
Just a few months earlier he had captured the U.S. Open in storybook fashion, after a devastating loss in the same tournament the year before. He was back at the top of his game and brimming with confidence. But when he accepted the trophy, he surprised everyone by saying:
"First of all, I have to give thanks to the Lord. If it weren't for the faith that I have in him, I wouldn't have been able to have the faith that I had in myself on the golf course."
Later he added, "I'm proud of the fact that my faith in God is so much stronger, and I'm so much more at peace with myself than I've ever been in my life."
Stewart's wife, Tracey, recalls, "Many people were amazed at how Payne handled losing the 1998 U.S. Open and winning the 1999 Open with equal measures of grace. Members of the press, and some of his fellow competitors, were intrigued. Something was different about Payne Stewart. Oh, sure, he was still Payne--spontaneous, outspoken, extremely confident, and always wearing his emotions on his sleeve. He still loved a good party, and he'd still tell you what he thought about a subject if you asked him--or even if you didn't. He still worked hard, played hard, and loved passionately. Yet people who knew Payne well recognized that he had changed somehow for the better. He possessed a deeper, unusual sense of peace... a peace that hadn't always been there."
Although Stewart grew up in a Christian home, faith was not the focal point of his life. He was preoccupied--even consumed--with achieving success in the world of professional golf. He accomplished many of his goals. But as time went on, Stewart realized that fame and fortune didn't bring him the fulfillment he was looking for. As a parent, Payne wanted to give his children the solid values he had been raised with. Friends encouraged him to take a deeper look at his own faith.
Major league baseball player Orel Hershiser gave Payne some inspirational books to read.
"Payne and I started reading devotionals together," Tracey remembers. "But before long I noticed that he was much farther along than I was. He'd read the Scripture from the devotional every night before he went to bed. He also began reading the Bible. Nobody tried to talk Payne into what he should believe or how he should live out his faith; he simply set out on his own journey with God. The Scriptures themselves were the most powerful influence on Payne's life."
Stewart once said, "I'm not a 'Bible-thumper'--I can't get up there on a rock and tell you what it all means, because I don't know. But I'm learning, and I like what I'm learning."
Tracey explains, "Payne was very much a 'Christian in process,' not someone who felt he had arrived spiritually. He never pretended to have the answers and probably didn't know what some of the questions were. But his faith was genuine, and as he understood the Bible, the issue wasn't about how much faith he had but whether his faith in Christ was real. And everyone close to Payne knew that his faith was real."
As his faith grew deeper, Stewart started talking about the difference it had made in his life. At his son Aaron's suggestion, Payne began wearing a bracelet with the letters WWJD--What Would Jesus Do?--as a testimony to his faith in Christ.
Stewart was wearing that bracelet when he hoisted the winner's trophy at the 1999 U.S. Open. He was wearing it on the day of the plane crash that took his life. Although most of the jet was completely obliterated by the impact, a few items survived the crash. One of them was Payne's WWJD bracelet.
Stewart's memorial service was broadcast live around the world. More than 100 PGA Tour players attended the service--many of them legends in professional golf. In his poignant address, Paul Azinger shared warm memories of special times shared with Payne. But he summed up the heart of the service when he said:
"Payne Stewart has finished the race, he has kept the faith, and now the crown of righteousness is his. Payne Stewart loved life and loved people.. During this past year, everyone who knew Payne Stewart saw a dramatic change in his life. They saw in Payne what the Bible calls a 'peace which passes all understanding.' Only God can do that because only God can change a heart...."
Paul continued, "Whoever you are, wherever you are, whatever you have done, if you feel the tug of God's Spirit on your heart, do not turn away. If, like Payne, you want to know the happiness and peace that only Jesus Christ can bring, I invite you to confess your sins and receive him as your Savior. Regardless of what your life has brought you, His love is enough. And His peace is for real."
You can experience this peace from God by praying something like this:
"Dear God, I realize that I am a sinner in need of a Savior. I believe that Jesus Christ died on the cross for my sins. Please forgive me. Come into my life and bring me peace. Amen."
Taken from Payne Stewart: The Authorized Biography by Tracey Stewart with Ken Abraham. Copyright ©2000 by Anastasia T. Stewart. Used by permission of Broadman & Holman Publishers.
© 2002 Good News Publishers. Used by permission.
Translated by permission of Good News Publishers
1300 Crescent Street
Wheaton, IL 60187
U.S.A.