Ruthie Bolton-Holifield: Lessons for Life
Christin Ditchfield
[ English | Vietnamese ]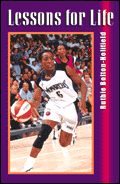 Ruthie Bolton-Holifield grew up in McClain, Mississippi, one of 20 children born to Linwood and Leola Bolton. She recalls spending many happy hours with her brothers and sisters singing around the piano or battling it out on the basketball court. She never dreamed she would one day be a pioneer in women's professional basketball.
Ruthie is a point guard for the Sacramento Monarchs, and one of the superstars of the WNBA. Her impressive career started at Auburn University, where she led her team to four NCAA tournament appearances. She has represented the United States on several World Championship teams and was named USA Basketball's Female Player of the Year in 1991. Since then Ruthie has added a few medals to her trophy collection - gold ones - at the Goodwill Games in 1994 and at the Olympics in 1996 and 2000.
Bolton-Holifield has become a role model for young people everywhere. She says she owes her success to the love and support of her family and that the lessons she learned as a child have guided her through all the challenges of her adult life.
Naturally, with such a large family, communication skills and patience and unselfishness were musts! Ruthie's father taught his children to have what he called a PMA - Positive Mental Attitude. He taught them to set goals and be committed to achieving them. But most of all, Reverend Bolton taught his children the importance of having a personal relationship with Jesus Christ.
He explained the Bible verse that says that "all have sinned and fall short of the glory of God" (Romans 3:23). Also, God "is patient with you, not wanting anyone to perish, but everyone to come to repentance" (2 Peter 3:9). In His love He made a way to reconcile mankind to Himself. He sent His Son Jesus to die on the cross and pay the penalty for sin. "To all who receive Him, to those who believe in His name, He gave the right to become children of God" (John 1:12). In other words, you must be born again.
That was a lesson Ruthie learned well. "When I was seven I asked Jesus to be my Savior. But later on, I wondered if I was just living right because I had to. It wasn't really optional at our house. I wondered how it would be when times got tough, or when I was out on my own. In college, I found myself facing all kinds of obstacles, all kinds of challenges. I had to reach back and draw on the faith and the values my father had instilled in me. It was then that I realized that God really had saved me and that He really was with me. My faith grew so much stronger."
Life as a professional athlete isn't as glamorous as it sometimes seems. Ruthie Bolton-Holifield has faced her share of pressures and injuries and disappointments. But her faith in Jesus Christ has seen her through.
"I'm just so thankful for what God has done for me," she says. "When things get tough, I remind myself that He knows what's best. He's in control of my career and my life. My favorite Bible passage is Romans 8:38-39: 'Neither death nor life, neither angels nor demons, neither the present nor the future, nor any powers, neither height nor depth, nor anything else in all creation, will be able to separate us from the love of God that is in Christ Jesus.' That means a lot to me."
You, too, can experience God's love as Ruthie has, by praying something like this:
Thank You, God, for sending Your only Son to die for me. I know that without Him I would be separated from you forever by my sins. I repent from my sins and invite You into my life to be my Lord and Savior. Amen.
© 2002 Good News Publishers. Used by permission.
Translated by permission of Good News Publishers
1300 Crescent Street
Wheaton, IL 60187
U.S.A.