Where Are You Going?
[ Chinese | English | Vietnamese ]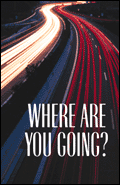 It happened so suddenly: a bend in the road, the sudden blur of an oncoming driver, and then the awful sound of crunching metal.
The accident occurred so quickly that it seemed like a bad dream. But it did happen. Amazingly, none of us was badly injured. It was another of life's small miracles.
But what if I had died when the delivery truck so unexpectedly collided with my car? Any one of us could have been killed instantly. Who knows how long life is? A month? A year? The Bible says our lives are like "a vapor that appears for a little time and then vanishes away" (James 4:14). Life is short, and its end is hidden. But you know, if I had died that day, I know exactly where I would be right now. Let me explain.
I know that if I had met death that day, I would now be living in the presence of God in heaven. Why? Because I have done enough good deeds to persuade a divine scorekeeper to let me in? No. I can never undo my wrongdoings. Nor can I hide them from God, who knows and sees all. I am a sinner, and there is no getting around that fact. "For all have sinned and fall short of the glory of God" (Romans 3:23).
You see, no one goes to heaven because of what they have or haven't done. Rather, it depends on whether you have asked Jesus Christ to be your Savior and to forgive you for your sins. Jesus Himself said, "I am the way, the truth, and the life. No one comes to the Father except through Me" (John 14:6). Furthermore, "For by grace [undeserved favor] you have been saved through faith, and that not of yourselves; it is the gift of God, not of works, lest anyone should boast" (Ephesians 2:8-9). Whenever I die, I will enter Heaven only because of what Christ has accomplished for me.
Jesus, in His death on the cross, actually carried on Himself the penalty for our sins. He did this because He loves you and me and wants us to receive total forgiveness and eternal life. The Savior promises, "Most assuredly, I say to you, he who hears My word and believes in him who sent Me has everlasting life, and shall not come into judgment, but has passed from death into life" (John 5:24).
What are your hopes for the future? Do you expect to reach goals meaningful to you, to attain desired happiness and success? I wish you the best in all this, but remember--your most important journey comes when you die. I urge you to be sure that Christ will be your companion in that day as your personal Savior from judgment for sin.
He offers you life. Will you receive it by receiving Him? "Behold, now is the accepted time; behold, now is the day of salvation" (2 Corinthians 6:2).
© 2002 Good News Publishers. Used by permission.
Translated by permission of Good News Publishers
1300 Crescent Street
Wheaton, IL 60187
U.S.A.